---
---
| Business Web Sites by Employee-size | SMEs Using the Internet
---
NOTE: The following table and graph is based on statistics from the Canadian Federation of Independent Business.

A news release on this database is available at the CFIB website: http://www.cfib.ca/research/reports/default_e.asp

If you require more detailed information or would like to view the full news release please contact CFIB directly. The link above contains contact information.



What size of Canadian businesses have web sites?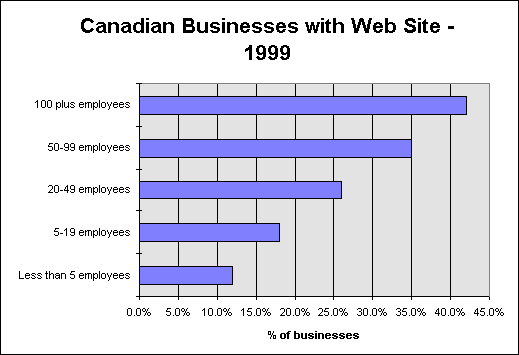 Percentage of Canadian Businesses with a web site by employee-size

(as a % of all businesses)

Less than 5 employees

12.0%

5-19 employees

18.0%

20-49 employees

26.0%

50-99 employees

35.0%

100 plus employees

42.0%
Source: CFIB, News Release:
http://www.cfib.ca/research/reports/default_e.asp
---
| Top of Page |
---
| Substance Web Design | Return to the Internet Data Centre | Next Page